Hi Speed Direct Attached Cable Solution
SFP+ / SFP28 Direct Attached Cables (DAC)
SFP (Small Form-Factor Pluggable) is a compact, hot-pluggable transceiver used for both telecommunication and data center applications. It interfaces on a network device (for a switch, router, media converter or similar device) via Hi-bandwidth copper parallel pair cable. SFP+ Direct Attached Cables are commonly categorised by different data transmission speeds, and nowadays up to 12.5Gbps. The enhanced version of SFP, namely SFP28, supports link operation at 25Gbps or higher.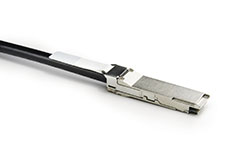 QSFP+ / QSFP28 Direct Attached Cables (DAC)
QSFP (Quad Small Form-factor Pluggable) direct attached cable providing a 4 channels cost effective I/O solution for 100G Ethernet applications. QSFP+ Direct Attached Cables are also commonly categorised by different data transmission speeds, and nowadays up to 40Gbps. The enhanced version of QSFP, namely QSFP28, supports link operation at 100Gbps or higher.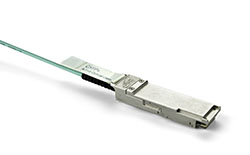 QSFP+ Active Optical Cable (AOC)
This product is a high data rate parallel active optical cable (AOC), to overcome the bandwidth limitation of traditional copper cable. The AOC offers 4 independent data transmission channels and 4 data receiving channels via the multimode ribbon fibers, each capable of 10Gbps operation. Consequently, an aggregate data rate of 40Gbps over 100 meters transmission can be achieved by this product, to support the ultra-fast computing data exchange.
This product is designed with form factor, optical/electrical connection according to the QSFP Multi-Source Agreement (MSA). It has been designed to meet the harshest external operating conditions including temperature, humidity and EMI interference.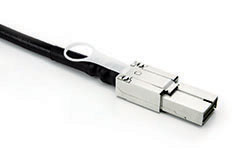 CXP
CXP pluggable copper cable is a copper connector system that is designed to enable 12 channels of 10 Gbps data to meet the requirements of 100 Gbps Ethernet interface that complies with InfiniBand CXP 12X QDR standards and IEEE 802.3ba requirements.
Our CXP cable assemblies are normally applied for InfiniBand and 100 Gigabit Ethernet switches and core routers.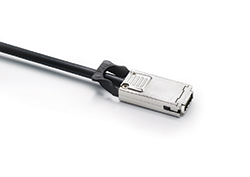 InfiniBand CX4
The cable assemblies comply with the InfiniBand high-performance computing technology that features high throughput and low latency. They comprise cable-to-board input/output system for differential signaling at and above 4.5 Gbps per pair.
Our InfiniBand CX4 cable assemblies are used in wide range of applications, such as telecommunication equipment, interworking equipment, storage area network switches, network interface cards, host bus adapters, storage devices and redundant array of integrated disksdevices.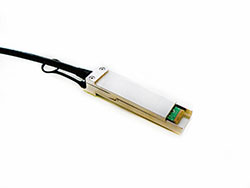 XFP
XFP is a small-form factor serial 10 Gbps interface that is hot-pluggable and applicable to the connections for stacking and uplink to different types of switches, servers and storage devices.
Our XFP cable assemblies are normally used for switches, servers, storage devices and network interface cards.