TIME Interconnect Technology (Huizhou) Limited is honored to receive recognition for three consecutive quarters from ASM Pacific Technology Limited (「ASMPT」)
21 Oct 2021
We are pleased to announce that TIME Interconnect Technology (Huizhou) Limited has received the Supplier Award for Outstanding Contribution from ASM Pacific Technology Limited (「ASMPT」) for three consecutive quarters in 2021.
The above award would not have been possible without the concerted efforts of our colleagues who have been committed to providing high quality service to our customers.
We greatly appreciate the long-term collaboration with ASMPT and look forward to continue being a valued partner of their global supply chain.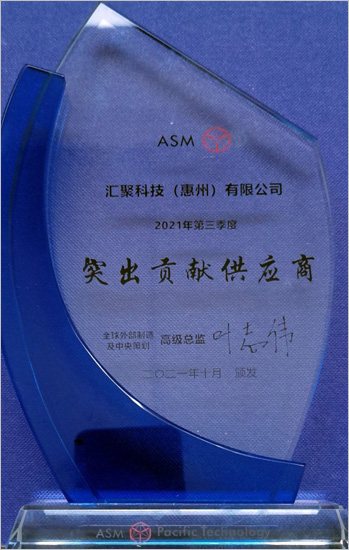 Supplier Award for Outstanding Contribution